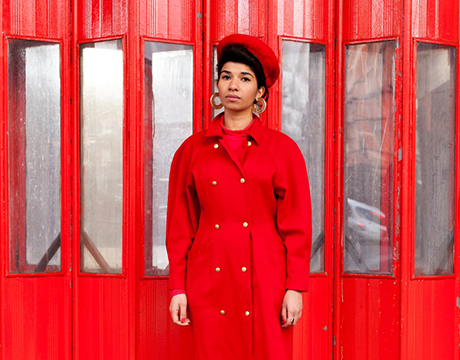 Die Londoner Künstlerin Nabihah Iqbal alias Throwing Shade dreht aufgebrauchte, stereotype Geschlechterrollen aus Musikvideos um und nimmt stattdessen als Sujets eine Reihe halbnackter, sich lustvoll auf einem prallen Bett aus Früchten und Blumen in glitzerndem Rouge räkelnder Männer. Bemerkenswert ist, dass Nabihah leicht und spielerisch bleiben kann, während sie eine eindringliche Botschaft vermittelt. Nach ihrem Geschichts- und Musikethnologiestudium eignete sich die Produzentin ein breitgefächertes Wissen über merkwürdige und wunderbare Musik aus aller Welt an, das sie zweimonatlich im Radiosender NTS zum Besten gibt. Als Folge setzt sie sich in ihrer eigenen Musik, die "Cosmic R&B" genannt wird, ebenso keine Grenzen.
Die Produzentin, DJ und Live Act Throwing Shade spielt ihre Live-Show gemeinsam mit dem Pfadfinderei-Mitglied und Visualisten Michael Titze.
London-based artist Nabihah Iqbal aka Throwing Shade flips exhausted, stereotypical gender roles found in music videos, and instead takes as her subjects a series of halfnaked men writhing in pleasure on a plump bed of fruit and flowers cast in glistening rouge. Remarkably, Nabihah can keep it light and playful, all whilst executing a very poignant message. After studying History and Ethnomusicology, the producer developed a vast knowledge of weird and wonderful music from across the globe, which she presents bi-monthly on NTS Radio. As a result, her own music production sees no boundaries and has been dubbed as "Cosmic R&B."
Producer, DJ and live act Throwing Shade is playing her live show together with Pfadfinderei member and visualist Michael Titze.
More artists on the same day